Life on the Passenger Train From The Golden Age to Amtrak
This exhibit shows a large display of dining car silver service, menus, and other artifacts from the golden age of rail travel. These items depict what it was like to travel during a time when train journeying was an experience that many people enjoyed. Rail travel was glamorized with colorful posters, advertisements, and promise of scenic adventure.
Railroad Lanterns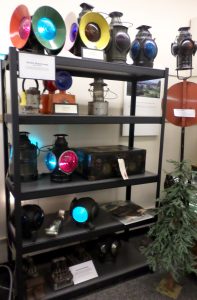 This exhibit features many types of railroad lanterns used in the days before radio. Some of the lanterns on display date back to before the turn of the century and illustrate railroading in the dark years, they include marker and classification lights, semaphore lights, switch lamps and others. The items in this exhibit come from railroads all over the country, giving visitors an idea of the variety of early signaling devices.
Centennial Exhibit
This exhibit features historic photographs and artifacts such as timetables and antique communication devices. The exhibit covers the history of railroading in Whatcom and Skagit Counties beginning with the construction of the Bellingham Bay and British Columbia Railroad in 1883 and spanning into the present day. Topics include the Milwaukee Road and predecessors, The Great Northern and Northern Pacific, inter-urban and streetcar lines.
Lionel and tinplate trains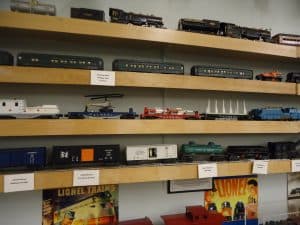 Do you remember setting up the old Lionel train set under the tree each Christmas? Or perhaps it was Grandad's old Marx trains when you were a kid. The Museum's Lionel and tinplate exhibit features a collection of pre- and post-war Lionel, Marx and Ives trains and the historic accessories that went with them. Many of the items in the Museum's collection were generously donated by members of the community.
1/2 inch Scale lumber models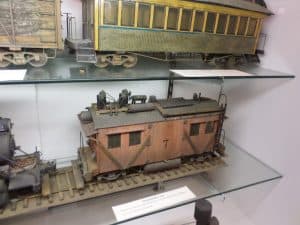 The museum is also proud to be able to display a series of hand built one-half inch scale (1/24th) models of antique logging equipment by Bellingham modeler Randy German. These exquisite models allow visitors to see how logging was done in the years before chainsaws and diesel equipment. Models include locomotives, a skidder, bunk cars, and other early implements. Randy also built a number of the structures and displays on the G gauge layout including the working log loader, sawmill, and coal mine.